Dance with Me Toronto: Perfect Wedding Dance Lessons in Toronto, North York, Markham, Richmond Hill, and surrounding area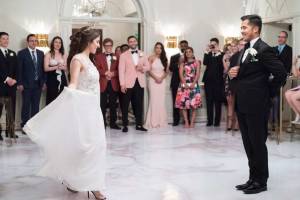 Is your wedding day fast approaching? Do you want to embark on a fun, bonding journey with your soon-to-be-spouse? Then it's high time for you and your soon-to-be spouse to take private wedding dance lessons with the Dance with me Toronto, a professional dance studio in Markham. We take pride in having instructors who are considered the best in the industry. Thanks to their many years of experience in choreography throughout the Greater Toronto Area.
On this page you would find everything you need to get a better idea of what we offer: Testimonials and a Gallery with Pictures and Videos from our satisfied customers. Please, check them. You would be able to book a free consultation as well.

If you need professional help in choreographing a beautiful wedding dance, check us out. With two convenient locations in Markham and led by 2008 Canadian National Professional Ballroom Champion, Egor Belashov, you will get the privilege of getting the best dance lessons and classes available at competitive costs. Here at Dance with me Toronto, we love working with wedding couples because every choreography is one of a kind to suit the preference of the couple.
We also enjoy watching couples blossom from mere beginners to more experienced dancers who can really impress the crowd on the dance floor on their special day.
No dance experience? No worries! Anybody can dance and anything is possible with commitment, dedication and practice.
The process is really simple. Just choose the music you like, book a free consultation at Dance with me Toronto, and we would be more than happy to put together a beautiful wedding dance routine for you. Depending on how elaborate you would like your dance to be, 5 to 10 lessons are generally required for you to make the best impression on your first dance as a married couple.

The cost per lesson is $75 (+ tax) – a steal considering you're receiving private instruction without all the distractions of a group class. In addition to bride/groom dances, we also help choreograph father-daughter or mother-son dances or bridal party group dances. With our assistance, you can make the precious memories you've always wanted to make with a fairytale wedding. Essentially, we aim of making your wedding dance one of the best parts of your wedding day.
Conveniently located in Markham and proudly serving as well those based in North York, Richmond Hill, Thornhill and surrounding area, Dance With Me Toronto is the dance studio to reckon with for quality wedding dance lessons.
Contact us today to set up an appointment for Wedding Dance Lessons and Choreography in Markham, Toronto. It's never too early to start preparing for your big day!
Landers buttons