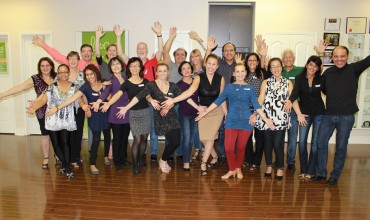 We are available for PRIVATE LESSONS Monday to Friday 10:00am to 10:00pm and Saturday 9:00am to 2:00pm – by appointment only.
You can book a Free Trial Lesson within this time frame as well – please, Contact Us to make an appointment.
Our current GROUP CLASS Schedule:
Please, check our NEW Group Class Video!
Monday 6:30 pm – Argentine Tango Beginner
Monday 7:30 pm – Argentine Tango Intermediate Watch Video
Monday 8:30 pm – Cha-Cha Intermediate (currently taught), Rumba & Swing (as well as Salsa & Merengue) Watch Video
Tuesday 12:30 pm – Lunch break recreation class – Latin Mix: Salsa, Merengue, Bachata, Rumba, Cha-Cha, Swing, Samba and Twist (all levels, you can join any time) Watch Video
Wednesday 7:15 pm – Salsa & Merengue Beginner
Wednesday 8:15 pm – Salsa & Merengue Intermediate Watch Video
Note: All our Group Classes are taking place at 149 Denison St, Markham. Please, call us 647-998-4375 to get more info on existing and future group classes.